A little experiment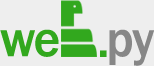 web.py, the antiframework framework
I'm putting the code up before the actual talk (
Monday, the 26th of November
), for those who would like to follow along with their laptop. The code again is made available under an MIT license.
Assuming you already have mercurial:
$ hg clone https://bitbucket.org/fdion/pyptug
If you need to install mercurial first:
debian based
$ sudo apt-get install mercurial
or fedora
$ sudo yum install mercurial
Under solaris, it is available under the packagemanager. On windows or mac you can get it here:
http://mercurial.selenic.com/
All those .py scripts and directories
will make more sense during the talk
, as we dig through them.
I will also post screencam captures later, for those who are not local.